WeirFoulds is pleased to announce that Bryan Finlay, QC, was presented with the Ontario Bar Association's 2012 Award of Excellence in Civil Litigation on September 27, 2012.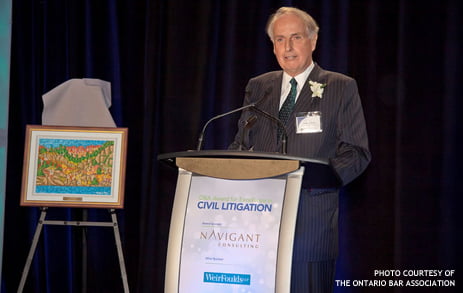 The OBA's Award of Excellence in Civil Litigation recognizes exceptional contributions and achievements in civil litigation by members of the OBA in the following areas: oustanding advocacy skills; professionalism, integrity and civility; teaching of civil litgation and practice; the enhancement of the practice of civil litigation; and leadership in the Civil Litigation Bar.
Bryan is recognized as one of the top litigation lawyers in Canada. A Fellow of the American College of Trial Lawyers, Bryan has been the recipient of a number of awards and acknowledgements, including recognition in Chambers Global, and in multiple categories by The Best Lawyers in Canada including the prestigious category of "Bet-the-Company" litigators. He has also been recognized as one of the 100 Most Creative Lawyers in Canada and one of the Leading 100 Canada/US Cross-Border Litigators in Canada by Lexpert®, as well as one of the Leading 500 Lawyers in Canada by Lexpert® and American Lawyer Media.
Bryan practises a broad range of litigation engaging the most complex commercial, constitutional, tort and public law issues. He is a Canadian Trustee of the Harold G. Fox Education Fund; Editor in Chief, Credit and Banking Litigation, Federated Press; Member of the Faculty for the Appellate Oral and Written Advocacy Continuing Legal Education programs; and a lecturer in numerous other Continuing Legal Education programs.
We congratulate Bryan on this honour and for his continuing contribution to excellence within the legal community.